UPDATE-October 2021: Please check back frequently for soap availability. We are now filling out of state orders, so quantities can change quickly! Custom scents are an option; please allow at least 6 weeks from order date for processing. Holiday scented soaps will be shipping beginning December 12, priority Mail vial USPS.

Goats' Milk Soaps are found to be gentle on the skin and may even relieve some minor skin irritations. All soaps are made with sustainably harvested ingredients, and may include Coconut Oil, Palm Oil & Olive Oil. Other ingredients will be listed in the descriptions. All soaps are $6.00 per bar, approximate weight of each is 4 oz. Shipping is determined at checkout.
Unscented-available November 2021
No fragrance oils are added to this soap.
$5.00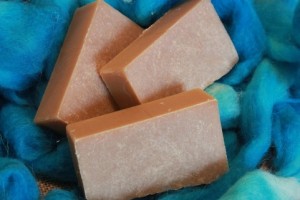 Rain
A fresh, gentle, scent reminiscent of a recent rainfall. Makes a nice lather! Has a beautiful blue swirl design.
$6.00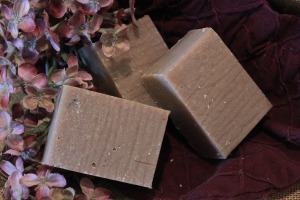 Error! You must specify a thumbnail image for your product in the shortcode.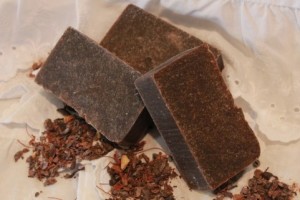 Sweet Vanilla Chai -available November 2021
Vanilla Beans give this a familiar scent, blended with the light spiciness of your favorite cup of Chai tea
$6.00
Error! You must specify a product name in the shortcode.
Lavendar-Basil-returning Feb 2022
Lavendar buds accompany soft scents of lavendar with a hint of color.
$5.00
Peppermint-available November 2021
Peppermint scent with a hint of candy cane like coloring. Colors may vary
$6.00
Coffee Collection-Available November 2021
The Collection will have a variety of coffee-shop themed scents available to choose from. All will be listed with photos soon.
$6.00
Coffee Mocha XX-out of stock
soft coffee scent with a hint of mocha, and freshly ground coffee exfoliant
$6.00
Orange Cream-returning Summer 2022
sweet creamy orange scent, reminiscent of a summer's ice cream treat
$6.00
Lemongrass-returning Summer 2022
luscious lemon scent with hints of the ocean
$6.00
Cucumber Melon-in stock
simply, cucumber and melon!
$6.00