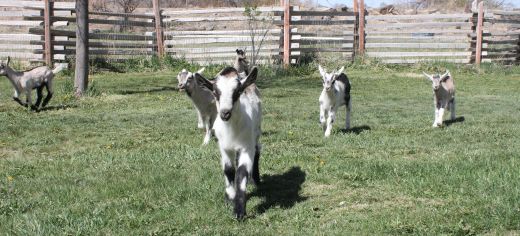 Winter23 For Sale:
2023 ~ American Alpines. 

Alpine Doelings $400. 50% non-refundable deposit required. All doelings are disbudded unless pre-paid in full and picked up within 2 days of birth.
Bucklings: price TBD.
Soldier Mountain Steamer X Triple R Caprines Glinda

Soldier Mountain Steamer X Triple R Caprines Pandora
2022 wethers

Alpines, great for packing or pets  $400. Horned.

2022 doelings

American Alpine, born March $350 ADGA

Milkers
American Alpine, Born March 2021 milker $350
Bucks

buck born March 2023. horned 2 available $250 each
All goats are vaccinated at 4 and 8 weeks of age for CDT. Doelings are disbudded by one week of age, for ADGA show requirements and ease on the milkstand. Bucklings retain their horns unless requested otherwise. Goats being used as pack goats do better on the trail if they have their horns for temperature regulation. This also allows the kids that aren't reserved to live with our current herd until they are purchased. Our dairy herd is tested annually for CAE/CL/Johnes diseases per ISDA requirements. The rest of the herd (the boys) are tested every 2 years, or annually if we have added animals from an outside herd. We no longer attend shows with our goats so they have not had any illnesses introduced.