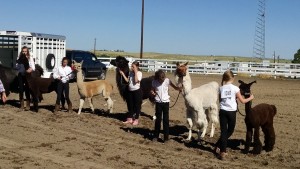 Elbert County Fairgounds – 95 Ute Ave – Kiowa – Colorado
9 a.m. start time
  This covers all 4 Youth Classes (Showmanship, Performance-Public Relations, Obstacle, Pack)
20th Edition of the ALSA handbook rules will be in effect.
ENTRY FORM: Click here for form
CLASS LIST: Click here for form
Fees: Make checks payable to "Rebecca Leach" and write "2017 Hummers Classic" in the memo line.
Mail to: Rebecca Leach, 40663 Tapadero Circle, Elizabeth, CO 80107  Attn: 2016 Hummer Classic.  must be postmarked by July 21, 2016.  Entries may also be emailed to info@rr-ranch.net.  A late fee of $50 per entry will apply.
Stalls:  This will be a haul-in show.  There are no stalls currently available, please plan to tie out your animals or bring your own panels.
Concession stands will be open, supporting Elbert County 4H Youth Council.
The Elbert County Open Class Fiber Show is running on the same date!  Entries are open to anyone, you do not have to be an Elbert County Resident!  Cost is only $2/exhibitor, to enter as many different classes as you wish.  Limit of 2 items per category.  There are special categories for youth.
(fiber show link to be added here)